Greetings …
It has been a long time getting the next phase together in Granville on the Water. Covid and other issues made materials and inventory access less than ideal and PVC underground conduit was not available last year ! At any rate, we now have Island Coastal Services installing the water piping and we have underground electrical conduit and systems installations underway. Many enquired a number of years ago …. When I thought lots might be available in 2021 !
Lots for Phase III will be available to transfer in the next few weeks … the lots will be on MLS shortly. The map following shows the lots in Phase III … Phase IV will be completed and available later in 2023. Plans and details for Phase IV are with the Planning dept at the Province of PEI.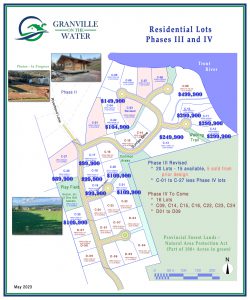 Click the map for a larger size version.
I appreciate your interest in the neighbourhood … the current owners are a terrific group and the amenities that are going in will be great for social gatherings and getting to know the neighbours. There remains a good bit of work to complete the croquet lawns, the common buildings, and the Bocce court & fire pit that overlooks the Trout River.
Walking trails through the adjacent 110 acres of forest, that are owned by the province and under the Natural Area Protection Act (permanent forest) will no doubt be part of community use as time progresses. Access to the river is found in several common areas, and a boat dock system is planned at the lower level, across from the Bocce Court and clubhouse.


You can find information on the www site :
Covenants : https://www.granvilleonthewater.ca/protective-covenants-for-homeowners/
Homeowners Association / Annual Fees : https://www.granvilleonthewater.ca/homeowners/
We would be happy to answer any questions … reach us on the contact page. I do hope all will be grand for all of us moving forward after Covid … looking for a great year ahead on PEI.