Granville on the Water is fortunate to be in Trout River 'valley', for lack of a better term. Waterfront homes can be just a few metres higher than sea levels, with the bulk of lots being between 40 metres and 60 metres elevation above sea level. The highest points in the southern woods on the lands are at approximately 92 metres elevation.
CLICK the images to enlarge
When one considers a home in Prince Edward Island, and seeks the ultimate location, one often does not consider the wind levels that can occur on this island.   Being just off the Gulf of St. Lawrence, there is little to block winds in some locations. Being near the north shore is a great positive for beaches, golfing, activities, great food, and family outings. However, if you are located directly on north coastal shores, you best get a tight fitting hat, especially in non-summer months.
Wind maps can be found at the Prince Edward Island Wind Atlas www site.   The GIF images below were created from mapping found at that link.  The image will cycle through wind condition found at 30m, 50m, and 80m Above Ground Level (agl).
Note the yellow and light green areas along Trout River.    The surrounding lands protect lower elevations in GOTW that receive less wind than neighbouring properties and far less than any along the north coastal waters.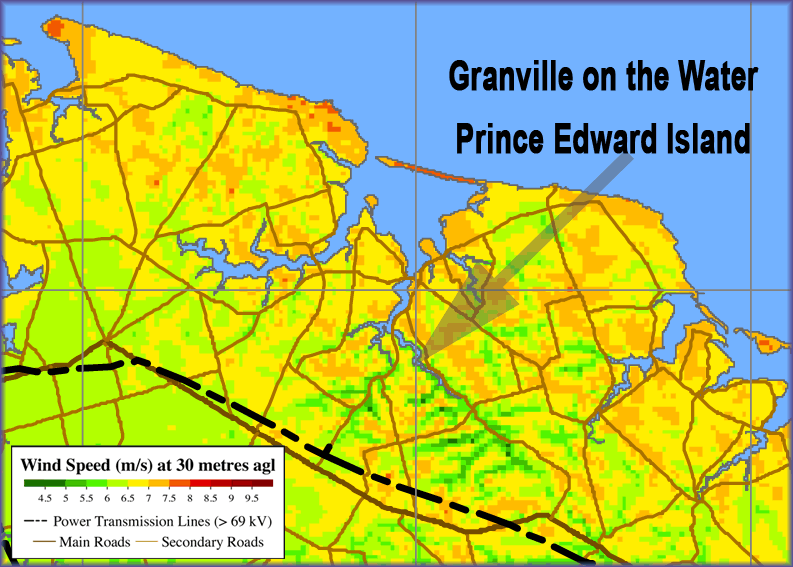 PEI Wind Map @ GOTW